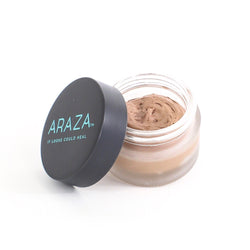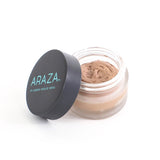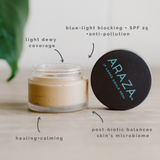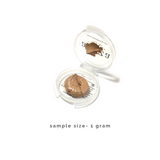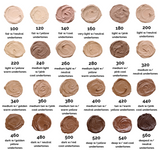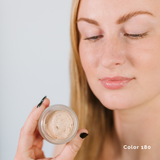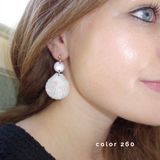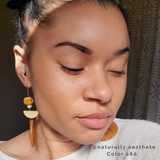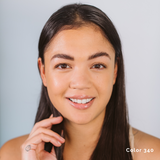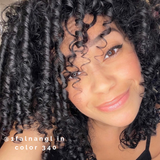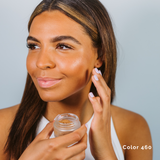 All In One Coconut Cream Foundation
Powerful and delicate. Strong and smooth. A foundation that's more than skin deep – giving you even coverage while improving your skin health with post-biotics, skin superfoods, and a decadent blend of certified organic oils. Hard-working ingredients nourish below the surface, while above, a dewey, vibrant finish illuminates your natural glow. One fuzzy tropical fruit reincarnated as a featherlight magical skin charm. When we say, all-in-one, we mean it. Full size is 30 grams.
Skin loving benefits: 
95% organic skin superfood ingredients
made with a coconut post-biotic that balances your skin's natural micro-biome + increases moisture
light to medium coverage with a glowy, dewey finish and a second skin, featherlight feel
very low PUFA (polyunsaturated fatty acids)
creamy, smooth texture 
high polyphenol content promotes new skin cell regeneration
ultimate skin protector: natural SPF (25), blue-light blocking and anti-pollution
natural clay is healing, fights inflammation and is packed with natural earth minerals
great for acne prone, aging & sensitive skin
let us help you find your perfect color match

What is it? A light-weight foundation that offers sheer to medium coverage depending on application 
Benefits-
💧Hydrating
🌿Vitamin, mineral & anti-oxidant rich from organic skin superfood ingredients, healthy fats & natural earth minerals 
✨Creates that 'Glow'
🐰Smoothes, softens & evens skin tone
☀️Natural SPF & element protection   
🔨Build-able coverage
❤️Enhances YOUR natural beauty 
🌾Breathable & light-weight 
HYPOALLERGENIC l PARABEN FREE l FRAGRANCE FREE l SUITABLE FOR ALL SKIN TYPES l VEGAN l CRUELTY FREE l CERTIFIED PALEO l 95% ORGANIC INGREDIENTS l MADE FRESH IN SMALL BATCHES 
Apply lightly using fingertips or a foundation brush. Blend softly for that no makeup, perfect skin look. Offers build-able cover. Foundation becomes more workable and smooth as it uses your own body heat to aid in application.
Read Our Coconut Cream Foundation Tutorial HERE
Our Best Tips for Applying All In One Coconut Cream Foundation (Troubleshooting Skin Types + Environmental Factors) HERE
Our ingredients are packed with purpose:
Non-GMO Organic Coconut Oil Extract -Provides deep, real moisture, anti-oxidant but without the potential of clogging pores.
Wild Picked Araza Fruit Extract- 2x the amount of vitamin C as an orange and rich in polyphenols. Its high anti-oxidant content is anti-aging and protective.
Non- Nano Zinc Oxide- Natural SPF
Certified Organic Beeswax- Locks in moisture and protects skin, allows skin to breath
Certified Organic Jojoba Seed Oil- Lightweight w/ anti-inflammatory properties, has been know to treat acne and skin conditions
Coconut Postbiotic- Antibacterial, antifungal, skin conditioning properties 
Certified Organic Argan Oil- Anti-aging, reduces wrinkles
Certified Organic Rosehip Seed Oil- Repairs sun-damage, discoloration and acne scars
Neem Seed Oil- Antibacterial, acne fighting
Non-GMO Natural Vitamin E Oil- Wrinkle fighting
Silica- Absorbs oils, diffuses light, reduces pores & wrinkles
Natural Clay- Known for its detoxifying and healing properties, absorbs excess oil, packed with natural earth minerals
(+/- Organic Essential Oil Blend, non-nano mica and iron oxides)
Full Size 30 grams,
Sample Size 1 gram and offers enough for 1-2 applications