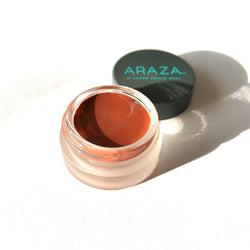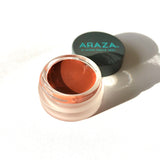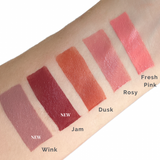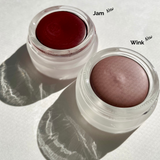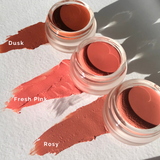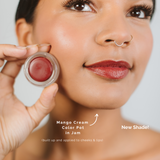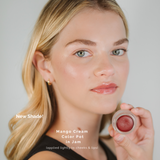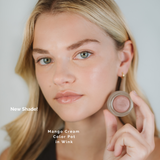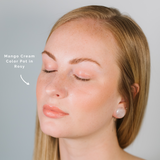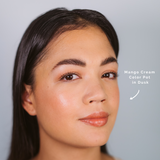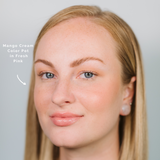 Mango Cream Color Pot
cheeks + lips 

A little paradise in your makeup bag. Our multi-use Mango Cream Color Pot goes on seamlessly to create a soft wash of cushiony color for your cheeks and lips. Made with a super rich and decadent blend of hydrating watermelon seed oil, skin plumping mango butter and natural earth pigments; it's the skin-loving way to add an effortless, natural flush of color to your face. Ever so subtle scent of tropical key-lime and packaged in our glass container.  
**Note. We use NO preservatives in this product and because of that our Mango Cream Color Pots are good for 12 months from date of purchase.
What is it? A creamy, easy to use cheek + lip color that instantly wakes up your complexion with color, warmth and dimension. 
Benefits-
🍉Hydrating + anti-aging Watermelon Seed Oil is perfect for acne prone skin, plus to promotes collagen production and decreases skin puffiness by promoting circulation
Mango butter softens, soothes and plumps skin
🌿Seamlessly applies with fingertips 
✨Perfect flush of natural color 
🌾No makeup feel =Breathable & light-weight 
🐚Natural mineral pigments, No fake dyes 
HYPOALLERGENIC l PARABEN FREE l FRAGRANCE FREE l SUITABLE FOR ALL SKIN TYPES l VEGAN l CRUELTY FREE l CERTIFIED PALEO l 98% ORGANIC INGREDIENTS l MADE FRESH IN SMALL BATCHES 
For cheeks, softly apply with your fingertips or a densely bristled brush like our Round Top Blending Brush. 
Apply to lips with fingertips. 
Our ingredients are packed with purpose: 
Certified Organic Watermelon Seed Oil- Fast absorbing, lightweight and hydrating oil for even troubled skin. Increases blood circulation and helps to reduce puffiness in the face. High amount of anti-aging properties. 
Certified Organic Mango Butter- Softens and soothes skin. Calming to itchy, irritated and damaged skin. Contains many healing properties and rich in vitamins A, C and E.
Wild Picked Araza Fruit Extract- 2x the amount of vitamin C as an orange and rich in polyphenols. Its high anti-oxidant content is anti-aging and protective.
Certified Organic Beeswax- Locks in moisture and protects skin, allows skin to breath
Certified Organic Jojoba Seed Oil- Lightweight w/ anti-inflammatory properties, has been know to treat acne and skin conditions
Certified Organic Potato Starch- Provides a thick base to carry skin nourishing ingredients
Certified Organic Shea Butter- Nutritious and rich in fatty acids. It's anti-inflammatory properties make it perfect for damaged skin. 
Silica- Absorbs oils, diffuses light, reduces pores & wrinkles
Non- GMO Vitamin E- Wrinkle fighting
(+/- non nano mica, organic key lime, zinc oxide)
Full Size is 5 Grams