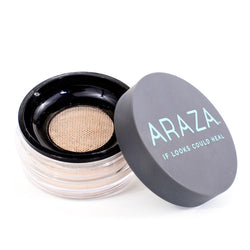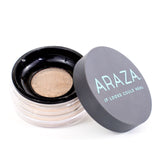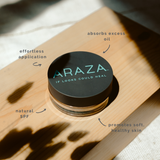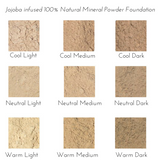 Jojoba infused Mineral Powder Foundation
Ever heard of jojoba? It's a silly word that's fun to say. JO-JO-BA! But more importantly, it's an oil known for its incredible moisturizing and anti-inflammatory properties. And this powder foundation is chocked full of it. With the added superpowers of wild picked araza fruit and neem extracts, your skin will be nourished from the inside while pure silk powder provides a luxurious feel on the outside. A divine complexion starts with jojoba.
Our full size is now 8 grams!  
What is it? A fluffy loose powder foundation that offers sheer to medium natural looking coverage 
Benefits-
💧Non-drying formula
🌿Vitamin, mineral & anti-oxidant rich from organic skin superfood ingredients, healthy fats & natural earth minerals 
✨Creates an airbrushed, polished finished
🛁Absorbs excess oil
🐰Smoothes, softens & evens skin tone
☀️Natural SPF & element protection   
🔨Super quick and easy application
❤️Enhances YOUR natural beauty 
🌾Breathable & light-weight 
HYPOALLERGENIC l PARABEN FREE l FRAGRANCE FREE l SUITABLE FOR ALL SKIN TYPES l VEGAN l CRUELTY FREE l CERTIFIED PALEO l ORGANIC INGREDIENTS l MADE FRESH IN SMALL BATCHES 
Simply dip your kabuki brush onto the netting of the product jar capturing the powder, tap off any excess and buff evenly onto face.      
Our ingredients are packed with purpose:
Wild Picked Araza Fruit Extract- 2x the amount of vitamin C as an orange and rich in polyphenols. Its high anti-oxidant content is anti-aging and protective.
Zinc Oxide- Natural SPF
Sericite- Finer version of mica, a natural mineral used for its light reflective properties
Certified Organic Jojoba Oil infused with Hydrated Silica- Lightweight w/ anti-inflammatory properties, has been know to treat acne and skin conditions
Boron Nitride- Made from Boron, an essential plant nutrient, creates a soft focus look
Vegetable derived Magnesium Stearate- A chelated mineral, Magnesium (mineral), Stearate (a salt or ester of a plant based fatty acid), improves skin texture
Silk Powder- Provides a luxurious feel to skin, chalked full of skin repairing amino acids
Certified Organic Vegetable Starch from Potato- Provides a thick base to carry skin nourishing ingredients
Pure Pearl Powder- Protein packed, enhances elasticity and luminosity, absorbs oil
Allantoin (from Comfrey)- Strong anti-inflammatory properties, promotes healing and skin regeneration
MSM- Superfood, softens, smoothes and hydrates skin, Accelerates wound healing
Silica- Absorbs oils, diffuses light, reduces pores & wrinkles, creates a soft feeling skin
Certified Organic Neem Extract- Antibacterial, acne fighting
Non-GMO Vitamin E- Wrinkle fighting
May contain: Ultramarine, Mica, Iron Oxides) *Denotes Certified Organic or Wild Picked Ingredient
8g