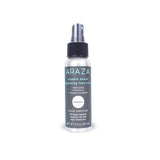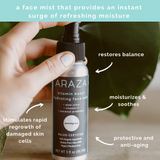 Vitamin Boost Hydrating Face Mist with Lemongrass
If we said you looked thirsty, would you be offended? You shouldn't, girl. You might just need a light misting. In one spritz, this soothing mist gives your skin an instant surge of refreshing moisture. Certified organic aloe juice, wild picked araza fruit extract, coconut ferment probiotic, bamboo, and lots of organic aloe juice to balance, soothe, moisturize, and give your skin a healthy dose of antioxidants. Drink up, gorgeous.
Our full size is now 3 ounces!  
What is it? A refreshing face mist + body mist that offers the perfect pick me up plus extra hydration 
 Benefits-
⚖️ Restores balance 
💧Deeply moisturizing 
🐹Soothing for inflamed, sunburned or irritated winter skin
🌻 Healing & astringent properties
✨Natural toner
💥Refreshing and energizing scent
🌾Breathable & lightweight 
💃🏿Quick & Easy on the go application ....carry in your purse, gym or makeup bag
🌱High level of polyphenols and carotenoids are both protective and anti-aging.
🌿Vitamin, mineral & anti-oxidant rich from organic skin superfood ingredients
❤️Enhances YOUR natural beauty 
HYPOALLERGENIC l PARABEN FREE l FRAGRANCE FREE l SUITABLE FOR ALL SKIN TYPES l VEGAN l CRUELTY FREE l CERTIFIED PALEO l 95% ORGANIC INGREDIENTS l MADE FRESH IN SMALL BATCHES 
A multi-purpose spray. Carry it with you and spritz your face throughout the day  when you need a pick me up. Spritz lightly over entire face as a makeup setting spray or use on  a clean face to prep and hold in moisture before makeup application
Our ingredients are packed with purpose:
Certified Organic Aloe Juice- highly moisturizing and penetrates the deep levels of skin tissues, contains multiple healing properties, extra soothing for inflamed skin
Wild Pick Araza Fruit Extract- 2x the amount of vitamin C as an orange and rich in polyphenols. Its high anti-oxidant content is anti-aging and protective.
Bamboo- High in silica that stimulates rapid regrowth of damaged skin cells. Contains healing and astringent properties
Coconut Ferment Postbiotic- Antibacterial, antifungal, skin conditioning properties 
Certified Organic Lemongrass Essential Oil- Anti-inflammatory and studies suggest it can soothe irritated skin as well as serve as a natural skin toner. Plus it's smell is energizing and refreshing.
3oz.