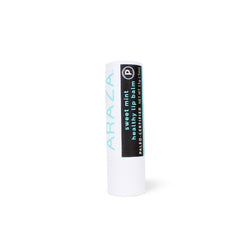 Sweet Mint Healthy Lip Balm
You know you've found a good lip balm when you don't immediately lose it. That's this one. A sweet, minty treat for your lips, made with a lush blend of certified organic ingredients. One swipe will leave your lips silky, tingly, and nourished. Trust us, this one's a keeper.
Our full size is now 5 grams!
What is it? A super sweet & minty moisturizing and protective lip balm
 Benefits-
💦 Ultra Hydrating
🌬Protective 
🐰Soft & Smooth
🍬Sweetened with organic stevia and essential oils 
🌿Vitamin, trace mineral & anti-oxidant rich from organic skin superfood ingredients, healthy fats & natural earth minerals 
HYPOALLERGENIC l PARABEN FREE l FRAGRANCE FREE l SUITABLE FOR NORMAL TO OILY SKIN l VEGAN l CRUELTY FREE l CERTIFIED PALEO l 95% ORGANIC INGREDIENTS l MADE FRESH IN SMALL BATCHES 
5g.
Apply to your pucker as often as desired.
Our ingredients are packed with purpose:
Certified Organic Castor Oil- Antifungal, fights against skin infections and bacteria
Wild Picked Araza Fruit Extract- 2x the amount of vitamin C as an orange and rich in polyphenols. Its high anti-oxidant content is anti-aging and protective.
Certified Organic Beeswax - Locks in moisture and protects skin, allows skin to breath
Certified Organic Avocado Butter- Good healthy fat rich in Vitamins A,B,C,E as well as amino acids and potassium. Rehydrates and conditions skin
Certified Organic Shea Butter- rich in vitamins & essential fatty acids, intense moisturizer & skin revitalizer
Certified Organic Olive Oil- Anti-oxidant rich, slows aging process, enhances natural glow of skin
Certified Organic Coconut Oil- provides deep and real moisture, anti-oxidant
Certified Organic Jojoba Oil- lightweight w/ anti-inflammatory properties, has been know to treat acne and skin conditions
Certified Organic Pomegranate Oil- Anti-oxidant that helps prevent again
Non-GMO Stevia Rebadiana (Stevia) Leaf Extract- A natural plant based sweetener
Non-GMO Natural Vitamin E Oil- Wrinkle fighting and natural preservative
(+/- Essential Oil Blend* or 100% Natural Fruit Extract)
5g