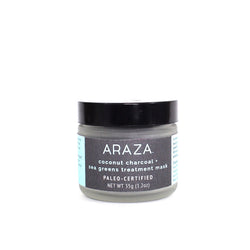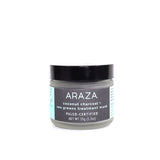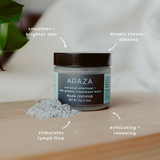 Coconut Charcoal + Sea Greens Treatment Mask
It's time to face facts with some face facts: Air pollution, conventional beauty products, dirt, and excess oil can suffocate your skin and clog pores. But there's a quick fix that's got your face covered – literally. With coconut-activated charcoal, this mask absorbs toxins while, exfoliating, healing and renewing oily, tired, or congested skin. Combine that with a super squad of organic sea plants and natural minerals for a mask that makes you feel squeaky clean.
What is it? A nourishing powder that when mixed with water becomes a detoxifying facial mask.
 Benefits-
🌴Detoxifying
🚿Deeply cleans
✨Smoother and brighter skin
🌻Exfoliating and renewing
🌿Vitamin, trace mineral & anti-oxidant rich from organic skin superfood ingredients, healthy fats & natural earth minerals 
HYPOALLERGENIC l PARABEN FREE l FRAGRANCE FREE l SUITABLE FOR NORMAL TO OILY SKIN l VEGAN l CRUELTY FREE l CERTIFIED PALEO l 95% ORGANIC INGREDIENTS l MADE FRESH IN SMALL BATCHES 
Quick and easy to apply. Mix 1 teaspoon of the mask with a few drops of warm water. Mix into a smooth paste using a treatment brush. Apply evenly onto your entire face and neck. Let dry for 15 -20 minutes. Rinse using warm water. Use 1-2 times per week for normal to oily skin and once every 2 weeks for skin that is more dry. Leaves your skin feeling tighter and deeply cleaned.
Disclaimer: We refuse to use any fragrance in our products due to the potential health risks. Because of this our Coconut Charcoal mask does have a strong seaweed smell! But we promise the benefits are worth it! :)
Our Ingredients are packed with purpose: 
Bentonite Clay- Helps control oily skin, prevents and purges blackheads. Soothes inflammation. 
Montmorillonite Clay-Very high mineral content containing magnesium, potassium, calcium and iron to name a few. Helps to purge skin of trapped debris like dirt and makeup.
Sodium Bicarbonate-Natural exfoliator leaves skin renewed, bright and soft
Coconut Shell derived Activated Charcoal- Absorbs toxins, chemicals and poisons. Excellent skin detoxifyer.
Certified Organic Kelp- Rich in minerals like iodine. Speeds up healing process of damaged skin. Phytochemicals help to detoxify skin's surface
Certified Organic Dulse- A red seaweed that is amino acid and vitamin rich. Stimulates and improves blood and lymph circulation. Regenerates broken capillaries and skin tissues.
Certified Organic Bladderwrack-Rich in B vitamins. Soothes and calms irritated and inflamed skin.
Raw Organic Blue-Green Algae- Top skin superfood, packed with vitamins, trace minerals and amino acids.
Wild Picked Araza Fruit Extract- 2x the amount of vitamin C as and orange and rich in polyphenols. Its high anti-oxidant content is anti-aging and protective.
Certified Organic Burdock Extract- Anti-oxidant that helps prevent aging
Organic Peppermint Essential Oil- Supports healthy collagen development, fights off free- radicals
Organic Essential Oil Blend- Natural exfoliate, full of Vitamin C 
35g